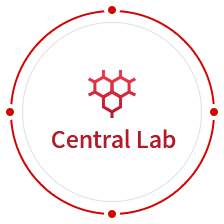 Researchers and Technologies
A total of 30 specialized doctors majoring in (laboratory medicine, diagnostic pathology) and PhD's who supervise the quality control, analysis and interpretation are working on the development of new technologies and the introduction of cutting-edge equipment for special test through research and development.
National network
The reception of specimen is available anywhere in the country through 30 branches nationwide and the received specimen will be analyzed on the day of arrival.
Transportation system
The laboratory strives to ensure the safety of the specimen before analysis and to completely eliminate the risk of loss. In order to ensure the safety, the Laboratory uses VIP quality material transport box to avoid the influence of external temperature and use PCM materials to maintain and monitor the specified temperature during transportation
Warranty
In order to assure the result, the Laboratory has obtained certification & accreditation by joining the national and international quality management program.
Acquired internation accreditation such as CAP(College of American Pathologists), USA Acquired accreditation of domestic quality assurance program management including KSLM
(Korean Society for Laboratory medicine).